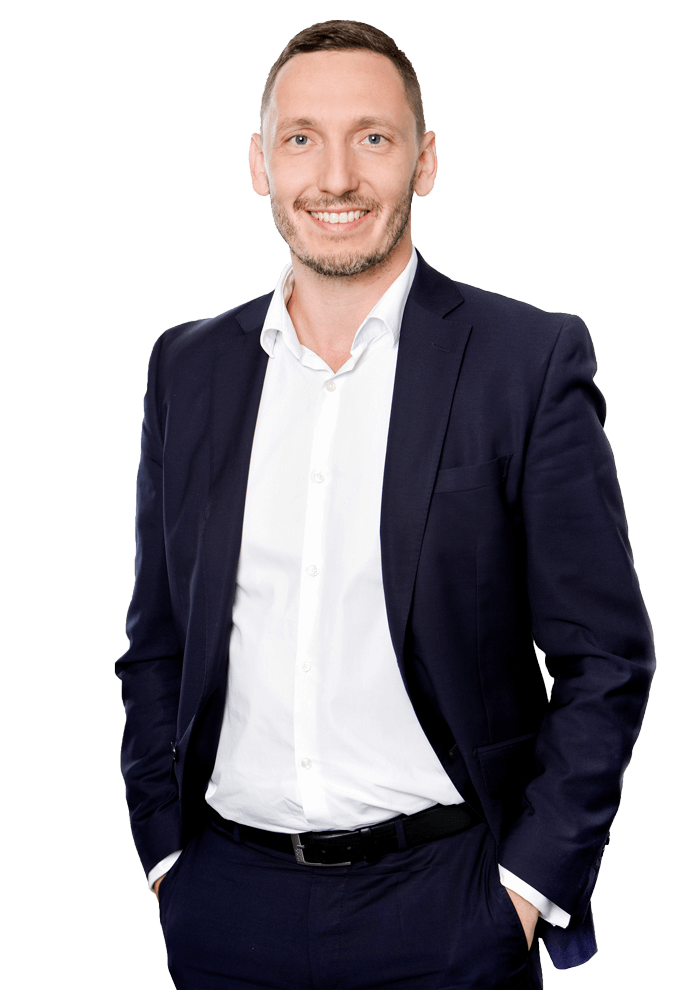 Martin has been specializing in mergers and acquisitions, corporate law, corporate reorganization, real estate, banking and finance, and administrative law for more than 20 years.
He provides advice on legal audits, structuring transactions, the preparation of transaction documentation, as well as the administration and reorganization of companies in Slovakia and the EU. He has also advised private equity funds on their capital inflows into Slovak companies, other acquisitions, restructuring and exits from companies.
Prior to joining MCL, Martin worked for almost 9 years as a senior associate at the Bratislava office of White & Case, where he was co-responsible for real estate, mergers and acquisitions and private equity. Later, as a partner, he led the Bratislava office of HAVEL & PARTNERS for 4 years.
In the field of energy, Martin represented the Slovak Republic in negotiating new conditions for the strategic exit of Slovenské elektrárne. He also advised banks on the acquisition of leasing companies. He has provided comprehensive legal advice to several foreign manufacturing corporations on their greenfield investments in Slovakia, their corporate reorganizations as well as the implementation of management decisions of foreign corporations regarding the transfer of production capacities outside the Slovak Republic. In the field of commercial real estate, Martin has represented international and local clients in the acquisitions and sales of the largest shopping centers, office buildings and logistics complexes in Slovakia and the Czech Republic.
In international publications Martin has been rated by Legal 500 as a leading lawyer in the field of mergers and acquisitions and real estate, where clients praised his dexterity, negotiating skills and willingness to go the extra mile.
Martin has two sons. He loves spending time in nature and with his family. Once an active football player (in hall football and small football), nowadays he enjoys mountain biking and road cycling, telemark and freeriding, skiing, skialpinism and tourism. He also likes listening to music, literature, cinematography and training his dog.

EDUCATION
Comenius University in Bratislava, Faculty of Law (Mgr., 2001)


Pavol Jakubec, on the complex legal and tax structuring of his acquisition of the remaining 50% share in I.D.C. Holding through Merge Plan, a special purpose vehicle
EXTENSA GROUP, on all aspects of its exit from the Slovak market, including comprehensive transactional assistance and advice on the sale of several shopping malls and the closure of its operations
MiddleCap Group, on its acquisition from HILLSBRAM FREIGHT & LOGISTICS LTD of a 70 per cent stake in BBF Tech (currently VOLTATECH) a market leader in the provision of electrical installation services for low and high voltage installations
Bauli, on its acquisition of a majority stake in MAX Sport, a Slovak producer of food products
Euro MAX Slovakia, on the sale of the City Arena Trnava shopping centre to J&T Real Estate
UniCredit Bank Czech Republic and Slovakia, in connection with the financing of Nordic Telekom 5g, a telco operator and 5g network provider, and the creation of securities both in the Czech Republic and Slovakia
MiddleCap Group, in connection with the sale of the Stein2 Office building
MiddleCap Partners, on its acquisition of FOKUS optic and FOKUS očná optika, the optical component retail market leaders in Slovakia and the
Czech Republic, and on related acquisition financing from Slovenská sporiteľňa and Česká spořitelna and the subsequent establishment of a security package
MiddleCap, in connection with advice on the development and financing of the Yosaria Plaza project
*Credo Ventures, in connection with its investment in a start-up company operating in the field of 3D lasers, including the consolidation of intellectual property rights
*HB Reavis, on the sale of its business shares in the company that owns the Forum Business Center in Bratislava
*IAD Investments, on their acquisition of an administrative center in Bratislava and a shopping center in Trenčín
*The Slovak Republic, in connection with its contemplated acquisition of a stake in Slovenské elektrárne and the negotiation of a memorandum of understanding
*legal services provided prior to joining MCL

Real Estate / M&A – leading individual